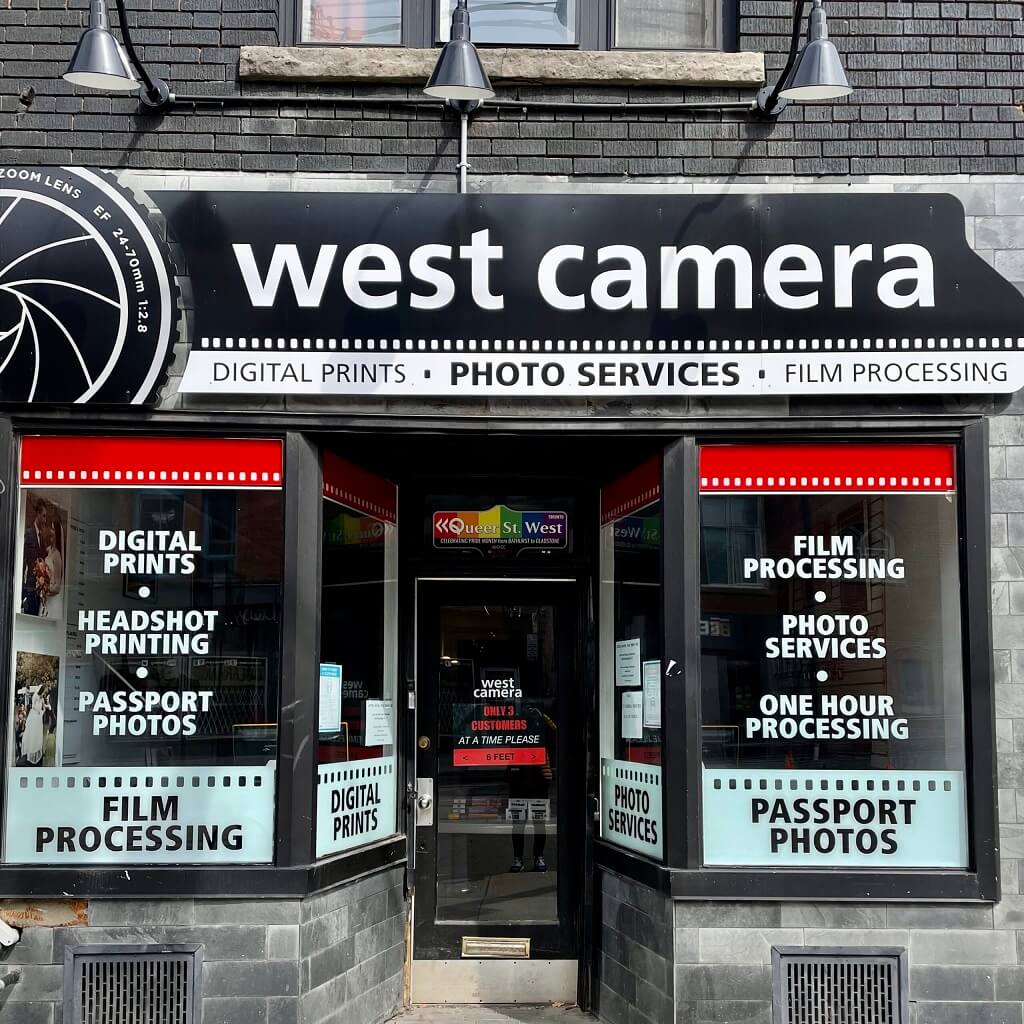 WEST CAMERA IS A FILM DEVELOPING LAB LOCATED IN THE QUEEN WEST NEIGHBORHOOD OF TORONTO, CANADA. ESTABLISHED IN 1985, WE HAVE BEEN SERVING THE FILM PHOTOGRAPHY COMMUNITY FOR OVER 35 YEARS. WE SPECIALIZE IN DEVELOPING AND PRINTING COLOR NEGATIVE AND BLACK AND WHITE FILM. OUR TEAM OF SKILLED TECHNICIANS IS DEDICATED TO PROVIDING HIGH-QUALITY RESULTS AND EXCEPTIONAL CUSTOMER SERVICE. IN ADDITION TO FILM DEVELOPING, WE ALSO OFFER SCANNING AND PRINTING FROM DIGITAL FILES.
WHETHER YOU ARE A PROFESSIONAL PHOTOGRAPHER OR A FILM ENTHUSIAST, WEST CAMERA HAS THE EXPERTISE AND RESOURCES TO HELP YOU BRING YOUR VISION TO LIFE. OUR CONVENIENT LOCATION IN THE HEART OF QUEEN WEST MAKES US EASILY ACCESSIBLE FOR PHOTOGRAPHERS IN THE CITY.
FAQ'S
Q: HOW DO I DROP OFF MY FILM FOR PROCESSING?
A: YOU CAN DROP YOUR FILM OFF IN PERSON ANY TIME WHEN ARE OPEN (12-5, MON-SUN)
Q: HOW LONG DOES IS MY FILM GOING TO TAKE?
A: GENERALLY, WE AIM TO COMPLETE ORDERS FOR 35MM COLOUR FILM WITHIN ABOUT 2-3 DAYS. SOMETIMES WE GET IT TO YOU FASTER, AND SOMETIMES WHEN WE ARE BUSY, IT MAY TAKE A LITTLE LONGER! IF YOU ARE LOOKING FOR A FAST TURNAROUND, PLEASE ASK ABOUT OUR SAME DAY/ NEXT DAY SERVICE WHEN YOU DROP OFF YOUR ORDER.
Q: IS THERE ANY WAY I CAN CHECK THE PROGESS OF MY ORDER?
A: SURE! JUST GIVE US A CALL OR SEND US AN EMAIL!
Q: HOW DO I SUBMIT MY FILES FOR PRINTING?
A: YOU CAN CLICK ON THE 'UPLOAD IMAGE TAB AT THE TOP OF THIS PAGE – THAT WILL LINK YOU TO OUR WETRANSFER PAGE.
FOR MORE INFO, PLEASE EMAIL US AT: